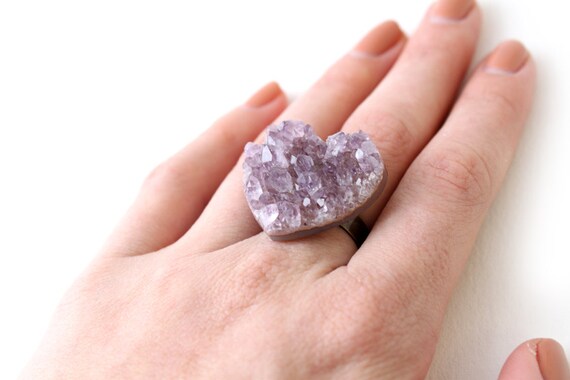 About a year ago I saw the most beautiful ring on
Orchid Grey's
Instagram.
It was a heart shape amethyst druzy ring from
Moorea Seal's Etsy shop
. Unfortunately it sold out before I could grab it. I was able to find a similar style in a necklace from another Etsy seller. I love that necklace and I wear it often. Last week I stumbled upon Moorea Seal's shop again and there was that ring again. I just received my tax refund so I was in the position to buy myself a little treat. I received my ring today and I am in love with it. It's so, so pretty and very well made. Such a statement ring. Very unique.
Check out her shop
for more rings and trinkets made with gems and stones. I'm very impressed and love my new piece of jewelry!